Landscaper Mt Angel Oregon | Landscape Contractor Mt Angel Oregon
Landscaping your home in Mt Angel Oregon
We believe that landscaping Mt Angel Oregon and the exterior appearance of your property are just as important as the interior of your house. As professional landscapers and landscaping contractors, we can design a plan for your yard and bring it to life.
Most people hire landscapers Mt Angel Oregon to increase their home's curb appeal when your home is professionally landscaped it stands out. If you ever sell your home, great curb appeal will attract potential buyers to your property.
Great landscaping is not just for others to view and admire it is for you to enjoy as well. If you love working in the yard, and caring for your exterior spaces, a nicely landscaped yard is a matter of personal pride. If you would rather not handle your own yard & lawn work, we can maintain and care for all your needs with proper landscape maintenance services.
Local: 503-363-4706
Toll-Free: 877-363-4706
Landscape Design Mt Angel Oregon
AJL sees the landscape design process as a collaborative effort between the client and our company to help put what is in your heart or imagination on paper. We can serve you with basic sketches or detailed computer aided drafting.
Landscape Construction Mt Angel Oregon
We have worked hard to develop a Landscape team and skill set that allow us to serve high end Residential and Commercial customers as well as simple renovation projects. Our goal is to help our clients build their back yard oasis, or front yard entry without compromise.
Landscape Maintenance Mt Angel Oregon
Our Landscape Maintenance team is committed to excellence and building strong relationships with the clients we serve. Our contracts are year round and pro-rated to allow for easy budgeting.We have 3 different levels of service to allow for a custom fit with each property. Gardens develop over time, requiring a long term approach and partnership to achieve the best results.
We design your landscape, we install your landscaping, and we maintain your landscaping.
We offer a wide variety of lawn and landscaping services to meet your needs
What can we do for your dream landscape?
Landscape Services
Plants & Trees
New Sod Lawns
New Seed Lawns
Bark / Rock / Gravel
Topsoil / Compost
Rock Walls / Retaining Walls
Stone Patio's / Paths / Stepping Stones
Stamped Concrete
Water Features / Ponds / Fountains
Arbors / Pergolas
Deck & Fence Building
Sprinkler / Irrigation Systems / Drainage
Outdoor Lighting
Lawn & Yard Maintenance
Lawn & Yard Maintenance
Lawn Mowing
Edging
Planting
Weeding
Pruning / Trimming
New Barkdust
Brush Clearing / Leaf Removal
Debris Removal
Driveway / Walkway Cleaning
Clean-ups or Weekly Service
Yearly Landscape Maintenance Calendar
Winter Maintenance
Winter provides us a time to prepare for the rest of the year. As our Mt Angel Oregon landscapes slow down, we can focus on elements that are hard to attack through the growing season. From simple irrigation repairs to structural changes within the landscape, the winter is an important time.
Monthly Mt Angel Oregon Landscape Maintenance Priorities:
January
1. Finish fall leaf cleanup
2. Winter pruning
–limbing up of deciduous trees
–limbing up of conifers in lawn areas
–thinning and structure pruning of pine trees
–pruning of summer blooming deciduous shrubs
–pruning of non-blooming evergreen shrubs
–pruning ground cover (ivy, cotoneaster, vinca)
3. Mow 1 time only if necessary- remove clippings
February
1. Completion of all bed cleanup
2. Pruning
–winter pruning completion
–pruning of Red-Twig Dogwood toward the end of the month
–rejuvenation of overgrown shrubs
–pruning of St. Johns Wort.
3. Fertilization of all groundcovers and shrubs- balanced
4. Fertilize turf lightly- high nitrate fertilizer
5. Cleanup of annual beds
6. Mow 1-2 times during month- remove clippings
Chemical Control
–Pre-emergent application for early weed control
–Watch for early detection on crane fly in turf
Additional Costs – bark application to the shrub beds every year or every other year.
May
1. Deadhead Rhododendrons and rake beds for spent blossoms of all flowering shrubs.
2. Prune Rhododendrons and Azaleas lightly (post-bloom)
3. Fertilize shrub and groundcover areas again- high nitrate
4. Cut back daffodils approx. 6 weeks after bloom
5. Startup irrigation system at the beginning of the month.
6. Mow 4+ times during the month- remove clippings
Additional Costs – thatching and aerating are important practices in the spring and fall. Thatching is not always necessary but aeration is. Depending upon the age of your turf and its current condition these practices may or may not be necessary annually. With the activation of your irrigation system, there is also a chance for extra costs due to repairs necessary as a result of vandalism, or other unmanageable factors (storms etc.)
We have Monthly Landscape Maintenance Packages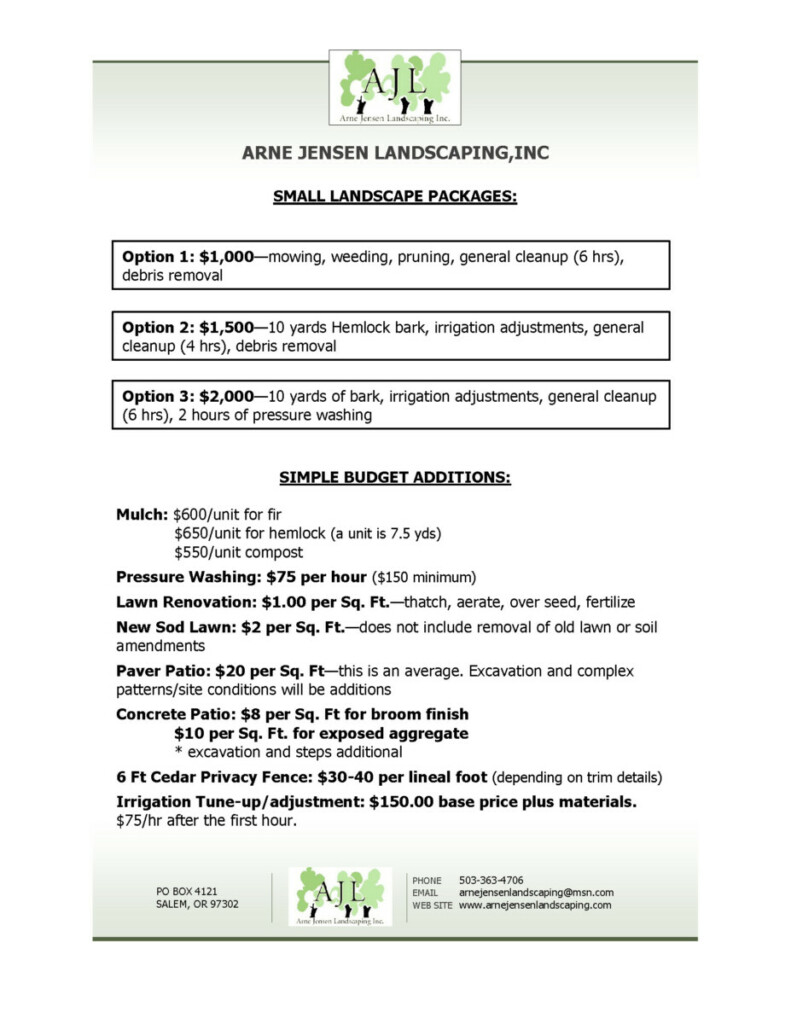 Summer Maintenance
Summer provides an abundance of growth, as temperatures fluctuate immensely. Careful monitoring is essential to maintaining a healthy, balanced landscape. Irrigation is our biggest concern as temperatures rise, and the amount of stress on plants and turf increases. Trees and shrubs, once they have matured, have a deep root system, which allows them to deal with extended periods of drought. Turf is not as fortunate as its root system is 3-6" deep, which makes it quite susceptible to drying out. With well-planned irrigation, we can avoid loss and drying out.
June
1. Start summer pruning of (ivy, vinca, photinia, Arbutus)
2. Use liquid fertilizer to annuals, except petunias and lobelia
3. Monitor irrigation for dry spots and washed out areas
4. Mow 4+ times during the month- recycle clippings
Chemical Control
–Shrub bed spraying weekly
July
1. Groom bark beds
2. Summer pruning of hedges, groundcovers, and early summer bloomers.
3. Fertilize turf as necessary- high nitrate
4. Monitor Irrigation, run times will be at the highest level.
5. Cut all petunias back
6. Mow 4 times during month- recycle clippings
Chemical Control
–Spot spray all beds and turf for broadleaf
August
1. Complete all summer pruning
2. Reduce irrigation slightly at the end of the month
3. Mow 4 times during month- recycle clippings
Fall Maintenance
As Fall hits and things start to slow down, there are a lot of adjustments that need to be made in the landscape. Through summer our focus is on careful monitoring. As fall sets in our attention is more focused on cleanup, but monitoring increases as well. This is the most challenging time of year in the maintenance business. Keeping up with the fall leaf removal almost doubles the amount of time spent on a job, so careful management of other landscape elements such as increased disease potential in the turf, is essential.
September
1. Begin fall leaf control; focus on the most visible areas around entries (we will use the blower to move leaves into areas where they can be picked up at a later point, without being an eyesore. Leaves will be blown onto the lawns where possible to be picked up by the mowers.)
2. Fertilize all shrubs, trees, and groundcovers to initiate and encourage root growth balanced fertilizer
3. Fertilize all turf areas- balanced fertilizer
4. Start planting pansies
5. Check annual beds, add new potting soil if needed
6. Mow 4 times during month- remove clippings
7. Monitor turf for Red Thread, Rust and other diseases
Chemical Control
–Apply pre-dormant spray for horsetail, poison oak, and blackberries (RoundUp Crossbow)
–Apply pre-emergent herbicide to beds as needed to control weeds
October
1. Continue leaf removal.
2. Reduce irrigation to one application per week, shut off irrigation beds. Depending upon season shut off entire system and drain toward the end of the month.
3. Mow 3 times during the month, lower the mowing height- remove clippings
4. Monitor turf for Red Thread, Rust and other diseases
Chemical Control
–spot spray for weeds if necessary
November
1. Focus on leaf removal through month
2. Make sure all irrigation systems are shot off and drained
3. Mow 1-2 times, or as necessary- remove clippings
4. Start winter bed work
Additional Costs – Thatching and aerating lawn areas to open up the surface and overcome compaction that can occur through the heat of summer.